For World Book Day 2022, Faringdon Learning Trust CEO Duncan Millard has shared his love of reading and gathered the top book recommendations from Trust staff.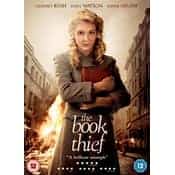 "I am an avid reader of books. For me reading is a form of escapism, I can get lost in a book and forget everything else, it is simply a wonderful way to relax. My reading choice is like my preference for music, eclectic. It's whatever captures my interest and imagination. I will read anything, as long as it makes me want to turn the page to know more. One of my favourite books is The Book Thief by Markus Zusak. I have read it many times and it always leaves a significant impression on me. Although it is a young adult book, with the simplest of language, the ideas and emotions within it are remarkable. The story centres around the power of books and words, I would highly recommend it. A line from the book that always resonates with me is
The best word shakers were the ones who understood the true power of words. They were the ones who could climb the highest.
All schools in the Trust work so hard to teach and promote reading. As educators, we all understand the benefits of reading and books. For our pupils being able to read means,
Their vocabulary is larger and more extensive.

They perform better academically.
Their imagination can run wild.
Their creativity skills develop.
They develop empathy.
They gain a deeper understanding of their world.
Their concentration levels improve.
The parent and child bond improves.
Their cognitive development is supported.
Their social skills and interaction improve.
Thank you for everyone who took the time to reflect on and share their favourite book. It was a privilege to read each one. All the recommendations are below. I hope this small summary encourages even more reading and sharing. I have certainly added a few more titles to my future reading list".
There is no such thing as a child who hates to read; there are only children who have not found the right book
We read to know we are not alone
The greatest gift is a passion for reading
Trust staff book recommendations:
Where the Crawdads Sing by Delia Owens

Prisoners of Geography by Tim Marshall

Pride and Prejudice by Jane Austen

To Kill a Mockingbird by Harper Lee

The Nightingale by Kristin Hannah

Excession by Iain M Banks

The English Patient by Michael Ondaatje

Memory, Sorrow and Thorn by Tad Williams

Birdsong by Sebastian Faulks

The Night Circus by Erin Morgenstern

Du Iz Tak? by Carson Ellis

The Thursday Murder Club by Richard Osman

The Magic Faraway Tree by Enid Blyton

The Tattooist of Auschwitz by Heather Morris

A Christmas Carol by Charles Dickens

Once Morris Gleitzman by Sarah Wilson

Hamnet by Maggie O'Farrell

The Crow Road by Iain M Banks

The Snail and the Whale by Julia Donaldson

A Taste of Home by Heidi Swain

The Alchemist by Paulo Coelho

Dracula by Bram Stoker

Dibs in Search of Self by Virginia Axline

Eat, Drink, Run by Bryony Gordon

The Secret Garden by Frances Hodgson Burnett

1984 by George Orwell

The Midnight Library by Matt Haig

The Red Tent by Anita Diamant

Autopsy by Patricia Cornwell

The Mindless Ferocity of Sharks: A Novel by Brett d'Arcy

The Christmasaurus and the Naughty List by Tom Fletcher

The Elegance of the Hedgehog by Muriel Barbery

Fahrenheit 451 by Ray Bradbury

The Perks of Being a Wallflower by Stephen Chbosky

Going Postal by Terry Pratchett

Tuesdays with Morrie by Mitch Albom

Jane Eyre by Charlotte Bronte 

The Green Mile by Stephen King 

A Thousand Splendid Suns by Khaled Hosseini

Lady in Waiting by Anne Glenconne

Windrush Child by Benjamin Zephaniah

Anna Karenina by Leo Tolstoy

Once Upon a River by Diane Setterfield

The Book Thief by Marcus Zusak

My Grandmother Sends Her Regards And Apologises by Fredrik Backman

The Secret History by Donna Tartt 

Pride and Prejudice by Jane Austen

All the Light We Cannot See by Anthony Doerr

The Boy, the Mole, the Fox and the Horse by Charlie Mackesy

An Innocent Baby by Cathy Glass

Journey's End by RC Sherriff

Shadow of the Wind Carlos Ruiz Zafon

The Long Silence of Mario Salviati by Etienne van Heerden

The Inheritance Cycle by Christopher Paolini

Can't Hurt Me: Master Your Mind and Defy the Odds by David Goggins

A Room with a View by E.M. Forster

El Otro Árbol de Guernica by Luis de Castresana

Lonesome Dove by Larry McMurtry

Petit Bleu et petit jaune by Léo Lionni

Legacy by James Kerr

Noughts and Crosses by Malorie Blackman

The Glass Bird Girl by Esme Kerr

A Tale of Two Cities by Charles Dickens

Persuasion by Jane Austen

Lord of the Rings by JRR Tolkien

If on a Winter's Night a Traveller by Italo Calvino

Bounce by Matthew Syed

Oh the Places You'll Go by Dr. Seuss

Shuggie Bain by Douglas Stuart

Hunting Unicorns by Bella Pollen

Name of the Wind by Patrick Rothfuss

The Guernsey Literary and Potato Peel Pie Society by Mary Ann Shaffer

The Knife of Never Letting Go by Patrick Ness

The End to End Cycle Route by Nick Mitchell

Dandelion Wine by Ray Bradbury

The World Before Us by Thomas Higham

Great Expectations by Charles Dickens

Memoirs of a Geisha by Arthur Golden