Emily Timbrell, a Year 12 student at Faringdon Community College, has had her artwork selected to be displayed at the Royal Academy 'Young Artist's Summer Show' this July.
The work selected is a stunning oil painting of reflective saucepans, a final piece from the GCSE project last year. This is a huge accolade and the whole school are incredibly proud of her.
The Royal Academy Summer Show is a free, open submission exhibition for students aged 4–19 studying in the UK. Artworks are judged by a panel of artists and arts professionals, with selected artworks displayed online and on-site at the Royal Academy of Arts.
Emily's artwork will be displayed from Tuesday 18 July for the online exhibition, and then the Pots and Pans painting will be on  display at the Royal Academy from 18 July – 13 August.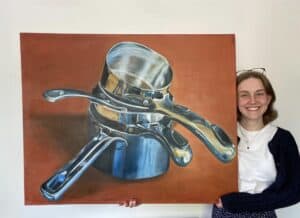 Headteacher Phil Bevan said:
"Emily's amazing painting has always been one of those works of art that you have to stop and look at because it is captivating. I am so pleased that her hard work and talent have been recognised at a national level".
If you get a chance to go, please do.